Welcome to the July edition of Authentic Parenting Blog Carnival: Pets and children.
This post was written for inclusion in the monthly Authentic Parenting Blog Carnival hosted by The Positive Parenting Connection and Authentic Parenting. This month our participants are sharing their thoughts and experiences with pets and children! Please read to the end to find a list of links to the other carnival participants.
***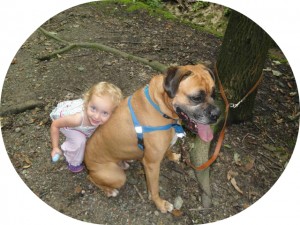 Some children are afraid of dogs. They may not have had a lot of experience with dogs or perhaps an incident which has made them fearful.  Helping children overcome their fears can sometimes be challenging and tiring but very worthwhile.
Here are a 6 pointers to help a child overcome a fear of dogs:
Accept the fear: Sometimes to us parents a dog is clearly friendly or cuddly puppy is waiting to be played with. Our life experience tells us we don't need to be afraid and we may say things that inadvertently upset our child "This dog is nice, pet it already", "don't be silly, it's just a dog" or "it's just a tiny puppy don't be afraid".   It's more helpful to a fearful child if we acknowledge the fear when we see our child acting fearful.  Asking  "Do you need to step away for a minute" or "should we continue on our walk" can be a supportive way to give children some space. Another great question is "how do you feel about meeting the dog?" To this a child may answer "scared" or "afraid"…
Give reassurance: Once the fear is acknowledged moving onto being supportive can go a long way. "I understand you are afraid. I will stay right by you."
Mind your message: Sometimes, no matter how well intentioned we may say something that re-affirms a child's fear.  When meeting a new dog for example, instead of asking "Does your dog bite?" or "Is it safe to pet your dog?" try using more neutral questions like "May we pet your dog?" or "Can we meet your dog?"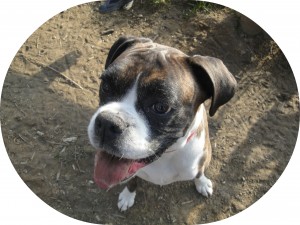 Model:  Showing children how to meet and greet a pet for the first time is really important.  Tell the child that  dogs like to sniff, lick and observe and that some dogs are more wiggly than others too.  If your child is comfortable enough to be near the dog, let them watch you interact in a gentle and respectful way first. Showing some commands like "sit" and "stay" so the child can see the dog can listen can be reassuring too.  For some children, they may want to be in one room while watching you in another, separated by a gate for example.
Treats & Toys:  A great way for children to ease into the process of being around dogs is by having a chance to offer a friendly and familiar dog a treat or a toy. Depending on the dog and the child, you can try this while separated by a safety gate or while the dog is securely held by a leash.
My sons friend used to come to our house for playdates and he was afraid of our two dogs. Each time he came we invited him to toss a treat over the gate. Over time, he got closer to the gate and eventually asked to pet the dog. After about ten visits he asked if he could play with the dogs  so we moved onto a game of fetch in the yard where I could be close by monitoring the play.  This turned out to be great fun and after that having the dogs around was no problem at all.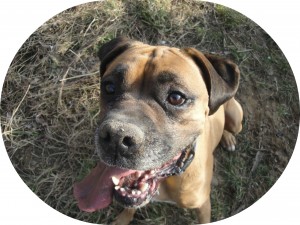 Don't rush it: Sometimes it's best for children just to have a chance to see a dog, or be close to a dog, there is no need to rush into petting, cuddling and getting doggy kisses. As much as these are wonderful experiences, let children take that step when they are ready.
Peace & Be Well,
Ariadne
Photo Credits:  Our dog Emma is 8 years old and came from Baypath Humane Society – she loves a good belly scratch.  Murph our 7 year old resident chewer who came to us through Boxer Buddies Rescue program.
***
Visit The Positive Parenting Connection and Authentic Parenting to find out how you can participate in the next Authentic Parenting Blog Carnival!
Please take time to read the submissions by the other carnival participants:
A Pet's Role in the Home School — If a house isn't a home without a pet, how can you imagine homeschooling without one? Erica at ChildOrganics discusses the many benefits of home schooling with pets. .
Toddlers and Whiskers, Co-existing as One — Mama Duck at Quacks and Waddles explains how to introduce new pets to toddlers and babies
Children and the Death of a Pet — Jennifer at Hybrid Rasta Mama offers suggestions on how to help children work through the loss of a pet. She includes a variety of books to support both parents and children during this tender time.
10 Reasons to Be a Foster Family for a Pet in Need — Christy from Adventures in Mommyhood: Mommy Outnumbered gives her top 10 reasons to consider fostering a pet until a forever home can be found.
Preparing Dogs for New Baby — Jennifer from Mother of the Pack gives advice to new parents for preparing their dog(s) for a baby
Children, Pets and Death — Lauren at Hobo Mama has walked with her son through the untimely death of their cat, a fascinating and troubling journey.
The Health Benefits of Having Pets — Laura from Authentic Parenting tells us exactly why having pets is beneficial to your child's health.
Romeo, My Healing Dog —  Bianca at the Pierogie Mama writes about her loveable old dog, Romeo, who at one point she had to give away but a few years later he was placed back in her life when she least expected it.
6 Tips to Help a Child That  is Afraid of Dogs – Ariadne at Positive Parenting Connection is sharing helpful tips and using play to help children overcome a fear of dogs.
The Value of Pets – Caroline from Stone Age Parenting writes about how pets have brought so much more than happiness to her life and how she has learned to appreciate and respond to the needs of animals and of humans.

Print Friendly
The following two tabs change content below.
Ariadne is a happy and busy mama to three children. She practices peaceful, playful, responsive parenting and is passionate about all things parenting and chocolate. Ariadne has a B.S. in Communication, is a certified Positive Discipline Parenting Educator, and has completed several graduate courses in child development, psychology and family counseling. She lives on top of a beautiful mountain with her family, one cuddly dog and "bluey" the fish.
Latest posts by Ariadne Brill (see all)