Mama, you are yelling at me and I don't appreciate that!  - my five year old
Sometimes, no matter how positive and peaceful we intend to be… we react.
Sometimes we react badly…we yell! we say mean things! we wish for a break!!!!!
Then we end up totally disconnected from our kids.
If you ever do that, yell and then feel terrible, or defeated, or guilty, you are not alone. In a survey  from the University of New Hampshire, out of 1,000 parents 90% admitted to yelling when they felt at the end of their rope.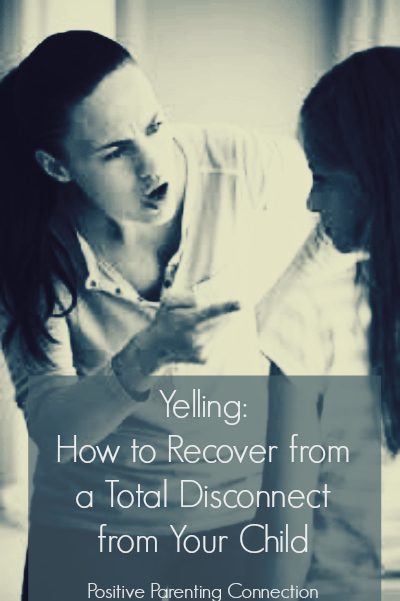 While yelling is not a positive or effective way to address our children and learning not to yell is totally worthwhile, here I want to share 3 steps for how to recover from a bad reaction.
Learning to recover when we make a mistake really does help restore connection, models really important skills to our children and helps things shift back into the positive.
It takes just 3 steps towards recovering from a disconnect:
Rewind: Acknowledge internally that you have said something hurtful or rude

Repair: Apologize for not only what you said, but how you did it.
Replay: Try again, this time responding with kindness and the intent to connect.
Here is an example of how I used these steps after my son pointed out I was yelling one evening:
To self: Oops! I lost it and yelled. I'm at the end of my rope. I have to stop and repair this. (rewind)

To my child:  I yelled at you, which was totally the wrong way to tell you want I wanted. I am sorry for yelling and for not using a respectful voice. I love you.  (repair)
Hugs!

To my child: I'd like to start over. I see you didn't hang up your coat or put your shoes away. Can you tell me what your plan is?

My child to me: I'm going to do it now. I know I keep forgetting a lot.  Sorry about that.
In all honesty, it's not unusual for parents to feel annoyed, overwhelmed, bothered or even down right angry. Maybe it is undone chores, skipped naps, the spills, the tears, the teasing…the car will not start, the laundry is piling up… Life is busy, we have high expectations, worries, plans and well…  Be kind to yourself, take breaks when you can and remember this:
Even if we can't parent in the most nurturing ways all the time, the more often we can, the more our children get what they need, the better they will be able to weather the times when we parent in less nurturing ways. -Pam Leo, Connection Parenting 
Here are some fantastic resources to stop yelling:
I like this short video from Dr. G.  because she is honest about her own yelling, plus her tips are spot on (especially about making eye contact!)
These two posts are also excellent:
How To Stop Yelling At Kids by Dr. Laura Markham
100 Alternatives to Yelling from The Orange Rhino
What are the moments in which you find yourself most likely to yell?
Peace & Be Well,
Ariadne

Print Friendly
Share and Enjoy
The following two tabs change content below.
Ariadne is a happy and busy mama to three children. She practices peaceful, playful, responsive parenting and is passionate about all things parenting and chocolate. Ariadne has a B.S. in Communication, is a certified Positive Discipline Parenting Educator, and has completed several graduate courses in child development, psychology and family counseling. She lives on top of a beautiful mountain with her family, one cuddly dog and "bluey" the fish.
Latest posts by Ariadne Brill (see all)