Messy Play…squishy, mucky, glittery, bright, wet, happy play! Messy play gives children an opportunity to tap into their creativity, explore all sorts of possibilities, enhance and experience their senses and of course…get messy!
Children just love it and well, some parents really just don't like it all that much. It's just so…messy.
The thing is messy play is important for a child's development, it's really not just about the mess but much more than that.  Messy (sensory) play for toddlers and preschoolers at its finest is an open-ended endeavor that promotes learning.  Especially in the first five years of life, a child's brain is developing rapidly and sensory play is vital stimulation for this development.
So what can parents do to offer messy play opportunities and not feel completely frustrated, disgusted, overwhelmed or otherwise annoyed with the mess?  Here are many ideas to make messy play just a little less messy and more enjoyable:
You can do it
You know it's going to get messy…but it's also going to be fun, so dive right in with a positive, can do attitude and it will feel easier.
Location! Location! Location!
Where ever you decide to start messy play, be sure the area doesn't have a lot of breakables, valuables, or important papers nearby.  By choosing a safe location you can reduce some anxiety about keeping important things clean and just focus on play.
Some great locations for messy play are the kitchen floor, a playroom, the bath tub, the driveway, back yard and the playground or local park.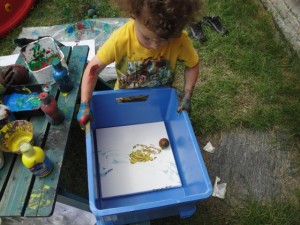 Dress it up  –  Cover it up
Making sure children wear old clothes or smocks is a great way to take some stress out of messy play.   Additionally, covering and containing the mess is important too.
One thing we like to do is use a vinyl shower curtain and place it on the ground. It can be hosed off and hung to dry after a messy activity and makes clean up much faster.  The curtain can be used just for protection or as the actual canvas for many messy projects!
Another inexpensive way to cover up work areas are newspapers, giant paper rolls or purchasing plastic table coverings from the clearance bin after any big holiday.
An eco-friendly version is to use giant beach towels, old bed sheets or painting drop cloth and wash or just let dry when finished, over time they will become stained with all sorts of messy play memories!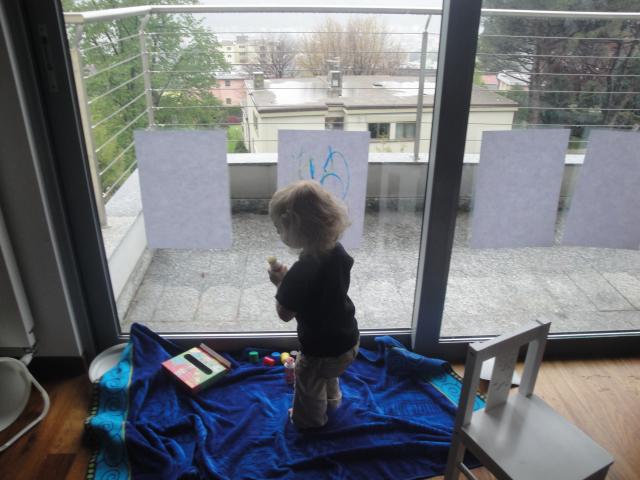 An old picnic blanket that has the vynil backing also works well.
Taping sheets of paper to a glass door for water color painting or finger painting is great.
Other ways to contain the mess: Old metal baking sheets, deep plastic bins, take away containers and foil pans, repurposing a water/sand table and using a kiddy pool.
When working indoors with really messy projects, I have even lined a "walkway" from the table to the sink with towels and masking tape to avoid getting the floor dirty. (Trash bags or plastic foil work too but not so earth friendly…)
Play with the rules
Picture a two year old on the loose with green goopy paint hands wandering by the white curtains…Aww! Although messy play is all about free exploration, it's really ok to contain or set up guidelines as to where the materials may and may not be.
Whenever we do messy play, we designate the area specifically and create a playful rule around it. For example: "Everything around the shower curtain is hot lava, so please stay on the lava proof carpet" or "this is the magical painting carpet, the paint stays on here only. "  "No playdough on the carpet."
For outdoors, using a safety cone for example to mark the end of a driveway is a great way to keep the children safe.
Avoid the sticky stuff…or not
Sticking with less messy materials if you are really mess avoidant is a great way to get started with messy play.  Using buckets, water and paint brushes (no paint) for example to paint the sidewalks, driveway etc…is low on the sticky factor, but is still loads of fun.
Check finger paints and tempera paints carefully, some brands are more washable than others.  Shaving foam is great fun, but it dries into a really glue like mess, so clean up before it dries up!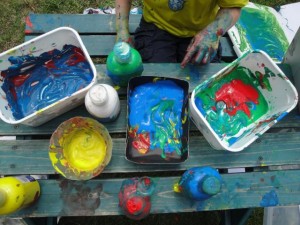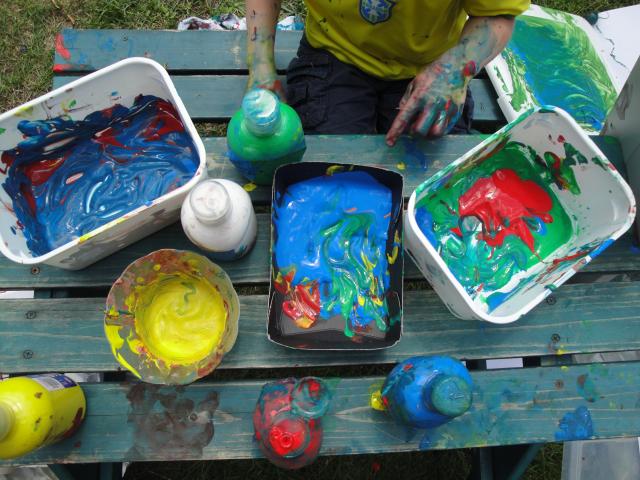 Mud gets a bad rap but it's really washable! Making mudpies and rock soup are messy but clean up and set up are pretty easy in the back yard.
Flour, sand and glitter tend to stick to everything. Baby powder is great at un-sticking them from little fingers and little toes!
The following two tabs change content below.
Ariadne is a happy and busy mama to three children. She practices peaceful, playful, responsive parenting and is passionate about all things parenting and chocolate. Ariadne has a B.S. in Communication, is a certified Positive Discipline Parenting Educator, and has completed several graduate courses in child development, psychology and family counseling. She lives on top of a beautiful mountain with her family, one cuddly dog and "bluey" the fish.
Latest posts by Ariadne Brill (see all)