Children want more than anything to be loved and accepted by their parents and caregivers. When they perceive to have done something wrong, they will often instinctively try to frame the situation in a positive way; sometimes, that involves bending the truth or outright lying.
Last week at Authentic Parenting I explored how to handle lies and fibs that revolve around fantasy, imagination and wishful thinking, and a bit on deception to avoid punishment. Here I continuing to investigate what do to about outright lies – those challenging moments when, despite all evidence to the contrary, your child insists it was the dog that left the light on, that she did clean her room but the wind must have made it all messy again or that chocolate smudge on his face is not the evidence of him sneaking chocolate but his new acquired five o'clock shadow.
An effective way to deal with lies is to remember the TRUTH:
T is for traps: If you know you are dealing with a lie or potential lie based on previous experience, don't trap your child into a further lie. For example, if you know the chocolate smudge on your child's cheek is from a smuggled treat, avoid asking "did you take a piece of chocolate without asking?" and instead try using words that invite a conversation: "I notice you have a chocolate smudge on your face. Do you remember what our deal is about taking chocolates from the pantry?" If you know your child hasn't put away his laundry and this is a typical struggle, instead of "did you remember to put away your clothes?" try "I noticed your laundry is still waiting in the basket, do you have a plan for when you will be putting those clothes away?"
R is for respect: Often after telling lies, children have strong feelings of fear, hurt or shame. Parents hearing a lie or discovering that something turns out to be untrue can get very angry.  Trying to respect whatever feelings are bubbling about in both parties and resolving to talk instead of shaming or yelling is very important. Another part of showing respect is to avoid nagging and using pestering phrases like "will you tell me already?" "Let's hear the truth now" or "stop lying and fess up, buddy."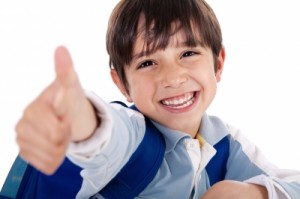 U is for understanding: Sometimes, looking beyond the lie and seeking out what has motivated the lie can be really helpful in remedying the situation. In helping a family recently where lying had come to be a challenge, it became clear that Spencer*, a six year old boy, had been telling lies and then more lies about doing chores and reading.  His parents' "go to" consequence for any missed chores or lying was taking away video game privileges. Spencer afraid of not being able to play video games for not doing his chores started to lie and a bad cycle of lies and punishment evolved.  Creating a routine chart which includes Spencer's chores  and time specifically for video game playing, helped stop the lying and punishment cycle. Without trying to understand the cycle of lies and punishments, the lies would have most likely continued. Excessive lying can also be a sign your child needs help coping with something that has changed at school or home. Taking the time to understand the motivation or reasons behind a lie can be key to helping the lies stop.
T is for time to cool off: Sometimes lies will catch us off guard or be so loaded with emotions that the best action is to take some time before reacting. Taking a break to cool off before addressing the situation can help you first find the emotional space and the right tools to move forward. A few months back I woke up in the early morning to find my three year old smiling at me. As my eyes actually started focusing, I saw a piece of hair in one hand and his play scissors in his other hand "Your hair fell off mama, so I caught it for you." I went to look in the mirror, a bit frantic, half sleepy, half jolted with fear of finding a patch-work scalp ….In there mirror I saw a chunk of my hair sticking up straight a good 8 inches shorter than the rest. It looked comical with a sprinkle of disaster. I turned around and my personal shear genius was standing there. A few deep breaths and "How about we go make breakfast?" was all I dared to say. I don't deal with hunger and conflict well so I postponed our conversation. After breakfast, and with carefully chosen words, we talked about the situation. "How come you decided to cut my hair?" (I didn't ask *if* he cut my hair so as to avoid a potential trap). "It was in your face when you were sleeping and I thought it would bother you…oh mama, I think I should have asked you first. I used my scissors not on paper." There were tears, and hugs, and we decided to not forget to put away play scissors at the end of the day.
H is for honoring honesty: Creating a home environment where telling the truth is always honored without punishment, but rather with open dialogue and a focus on solutions usually minimizes blatant lies or leads to the truth being told more freely afterwards. Additionally, as parents, modeling honesty even if it creates potentially challenging situations is important. For example, recently I broke my son's favorite mug. I went to him and told him I had broken it. I also make a point to always tell the truth for example if something is going to hurt, like a strep throat check at the doctors or if an animal has died.
Lying should not be overlooked and dismissed, but it also does not need to be harshly punished. Fear of punishment (time out, spanking, losing privileges) and shame are the most common reasons children turn to lies. What's more, some children become ever craftier with lies because of a punishment-lie-more punishment-more lies-cycle creating a very unhealthy habit.
Setting limits at home, keeping an open dialogue with your child, implementing special time and family meetings are all effective tools not only for diminishing lying but for creating a positive parent-child relationship based on love, connection and trust.
Has your child lied to you recently? What was it about and how did you handle it?
Peace & be well,
MudpieMama
PS: If you like this, join me at Positive Parenting Connection on Facebook for daily inspirations, ideas and parenting resources.
*Spencer's name has been changed.
Image: photostock / FreeDigitalPhotos.net

Print Friendly
Share and Enjoy
Ariadne is a happy and busy mama to three children. She practices peaceful, playful, responsive parenting and is passionate about all things parenting and chocolate. Ariadne has a B.S. in Communication, is a certified Positive Discipline Parenting Educator, and has completed several graduate courses in child development, psychology and family counseling. She lives on top of a beautiful mountain with her family, one cuddly dog and "bluey" the fish.
Latest posts by Ariadne Brill (see all)